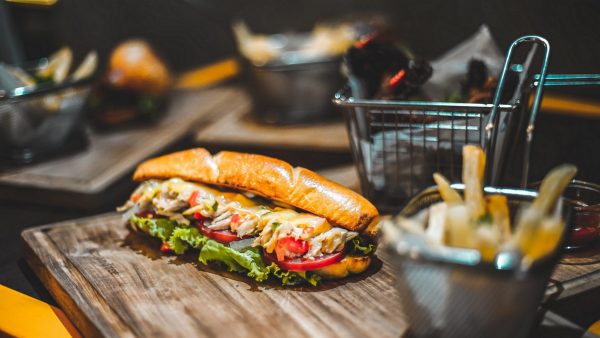 Welcome to Gaslamp Pizza, your go-to pizza shop in the heart of San Diego's historic Gaslamp Quarter. While we're famous for our mouthwatering pizzas, we know that sometimes you crave something different. That's why we're excited to introduce you to our delicious range of sandwiches. In this article, we'll take you on a culinary journey through our sandwich offerings, so you can satisfy your hunger and enjoy the diverse food Gas Lamp SanDiego has to offer.
Philly Cheese Steak: A Taste of Philadelphia in San Diego
At Gaslamp Pizza, we believe in bringing the world's flavors right to your plate. Our Philly Cheese Steak sandwich is no exception. Sink your teeth into thinly sliced, tender sirloin beefsteak, sautéed to perfection and smothered with melted American cheese, all nestled in a soft, fresh roll. Each bite of this classic sandwich will transport you straight to the bustling streets of Philadelphia.
Chicken Parmesan: Italian Delight with a San Diego Twist
Our Chicken Parmesan sandwich is a testament to the rich Italian culinary tradition, with a San Diego twist. Tender chicken cutlets, breaded and fried to golden perfection, are topped with savory marinara sauce and melted mozzarella cheese. Served on a fresh Italian roll, this sandwich is a taste of Italy right here in the Gaslamp Quarter.
Chicken BBQ: A Tangy, Smoky Delight
For those who prefer a taste of the American South, our BBQ Chicken sandwich is a real treat. Succulent, grilled chicken breast is generously coated with our signature BBQ sauce, offering a harmonious balance of tangy and smoky flavors. Topped with crispy lettuce, ripe tomatoes, and pickles, this sandwich delivers the perfect combination of savory and sweet.
Chicken Buffalo: Spice Up Your Life
If you're craving some heat, our Buffalo Chicken sandwich is sure to please. Tender, hand-breaded chicken is tossed in our zesty Buffalo sauce, delivering a spicy kick that'll leave your taste buds dancing. To balance the heat, we top it off with cool, creamy ranch dressing and crisp lettuce.
Meatball: An Italian Classic
Experience the timeless flavors of Italy with our Meatball sandwich. Our homemade meatballs are prepared with a special blend of herbs and spices, then slow-cooked to perfection in a rich, savory tomato sauce. We serve them on a fresh Italian roll, generously topped with melted mozzarella cheese. It's a taste of Italian comfort food that'll leave you coming back for more.
Make It A Combo: Satisfy Your Cravings
Hungry for more than just a sandwich? At Gaslamp Pizza, you can make it a combo. For just $9 or more, you can enjoy your favorite sandwich along with a side of crispy fries and a refreshing can of soda. It's the perfect way to satisfy your appetite, all in one delicious meal.
At Gaslamp Pizza, we're not just about San Diego pizza; we're about providing our customers with a diverse and satisfying dining experience. Our sandwiches offer a taste of various culinary traditions, from the rich flavors of Philadelphia to the comfort of Italian classics, and the zesty spices of the American South. Whether you're a local or a visitor exploring the Gaslamp Quarter, we invite you to savor our sandwiches as a part of the vibrant Gaslamp food scene in San Diego. Contact Gaslamp Pizza and let our sandwiches delight your taste buds. We can't wait to serve you a taste of culinary excellence in San Diego's historic Gaslamp Quarter.