Calling all pizza enthusiasts and flavor explorers! Prepare your taste buds for a culinary adventure as we delve into the mouthwatering world of Gaslamp Pizza. Located in the heart of San Diego's vibrant Gaslamp Quarter, this pizzeria is a haven for foodies seeking the perfect slice. From their signature pizzas to their tantalizing toppings, Gaslamp Pizza promises a dining experience that will leave you craving more.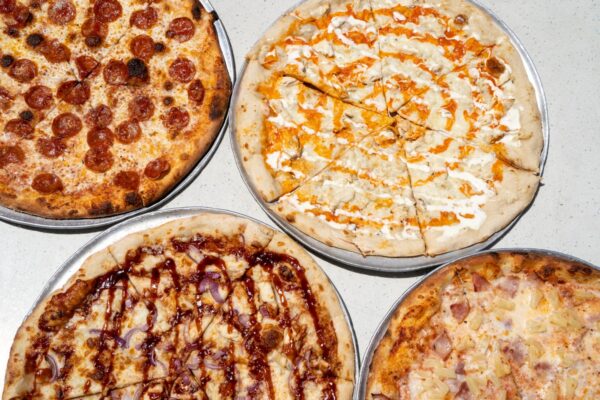 At Gaslamp Pizza, the possibilities are endless when it comes to creating your dream pizza. Start by choosing from their selection of high-quality crusts, crafted with care and baked to perfection. Whether you prefer a classic thin crust or a chewy deep-dish delight, Gaslamp Pizza has you covered. And now, let's talk toppings!
Crafting Your Perfect Pizza: Exploring the Array of Signature Pizzas
For those who love traditional flavors, Gaslamp Pizza offers a variety of classic toppings to enhance your pizza experience. Indulge in the savory goodness of pepperoni, the earthy richness of mushrooms, or the vibrant crunch of green peppers. Black olives, pineapple, jalapenos, pesto, onions, tomatoes, spinach, garlic, feta cheese, and BBQ sauce are just a few more options to take your pizza to the next level. Customize your creation with the perfect combination of flavors and textures that will leave your taste buds dancing with delight.
If you're a meat lover, Gaslamp Pizza has got you covered with their irresistible meat toppings. Enjoy the hearty satisfaction of Canadian bacon, the bold flavors of meatballs, or the succulent tenderness of chicken. Each bite is a symphony of flavors that will transport you to pizza paradise.
Beyond Pizza: Indulging in Irresistible Combo Appetizers
But the delights at Gaslamp Pizza don't stop at pizza alone. Dive into their delectable combo appetizers for a truly satisfying meal. Indulge in the irresistible combination of crispy chicken wings and perfectly seasoned fries, or savor the mouthwatering harmony of chicken strips and golden fries. For those seeking a cheesy and crispy delight, the combo of mozzarella sticks and zucchini sticks is an absolute must-try.
Sandwich Sensations: Savoring the Delights of Gaslamp Pizza's Sandwich Menu
If you're craving something beyond pizza, Gaslamp Pizza also offers a selection of mouthwatering sandwiches. Sink your teeth into the classic Philly Cheese Steak, where tender beef meets melted cheese and sautéed onions. The Chicken Parmesan sandwich is a delightful combination of juicy chicken, tangy marinara sauce, and gooey cheese. And for those who prefer a touch of BBQ goodness, the Chicken BBQ sandwich is a flavor-packed delight that will leave you wanting more.
Gaslamp Pizza is more than just a pizzeria; it's a culinary journey that caters to the desires of every food lover. With their array of signature pizzas and tantalizing toppings, they ensure that every bite is a burst of flavors that will leave you craving their creations time and time again.
So, whether you're exploring the Gaslamp Quarter or simply seeking an unforgettable dining experience, Gaslamp Pizza is the ultimate destination for foodie delight. Come, indulge your taste buds and discover the perfect harmony of flavors that await you at Gaslamp Pizza.
Gaslamp Pizza is located at 505 Fifth Ave, San Diego, CA 92101. For more information, you can reach them at (619) 231-7542 or via email at info@gaslamppizza.com.
Note: Prices and menu items are subject to change. Please visit their website for the most up-to-date information.